Prelude: Why do you need monitoring for a Solar PV asset? Isn't it a ZERO maintenance asset type?
Over the years, the myth that solar needs no Monitoring or maintenance has been busted. Solar remote monitoring offers the highest ROI in terms of what you can do to an old plant which will enable the highest return – it helps you decide, keep a watch and even control remotely. Let's understand it a little more.
A solar power plant typically has a large number of devices, a big set of parameters coming from each device as well. Back of the envelope calculations for a 300 MWp plant show that it will have approx. 900,000 Modules, 300 Inverters, 150 Transformers, and 4800 combiner boxes. It will also have other devices like a smoke alarm, weather monitoring station, door ajar sensors, soiling stations, PPC, etc. In a year it could add up to Billions of data points. With tariffs plunging to 1.99 / Unit, it is high time you get an intelligent assistant to help you navigate through this data to really get actionable insights.
A digitized asset helps in improved performance, by getting the data in one place structured, and through intelligent analysis. 
SolarPulse, an intelligent remote monitoring system from Mahindra Teqo is a product which has been built by O&M experts for the O&M teams worldwide. It provides real-time monitoring, trends, alerts, reports & control of your asset. Armed with SolarPulse, you may not lose your sleep; we assure you that – to say the least, you would know where to look. Deployed over 2.5 GWp of assets ranging from 3kWp to 380 MWp single location, the product is robust with the first deployment in 2013 and scalable as well.
Which hardware should I install for solar PV remote monitoring?
The hardware you use for your Solar PV monitoring is an important decision to make while choosing the type of monitoring. We will detail this in our whitepaper 'Which Monitoring type' releasing next week; however in short you can go for Legacy PLC solutions, IoT based data loggers and Embedded PCs with DCUs for your solar plant. There are pros and cons of each of these hardware. 
We highly recommend choosing a software partner who is hardware agnostic ensuring you have the right to change the hardware at will from the open market – to have standardization of your SCADA even if you need to retro-fit your older SCADA later. Solarpulse works with any hardware, ensuring you don't need to undo any previous decision or regret anything.
Edge over the others
SolarPulse was built with the vision to need Zero monitoring – our software is self-reliant and provides enhanced performance monitoring through immediate detection and resolution of issues.
The Dashboards – help access all your plant's data at one-go, including Operational & Business KPIs, Weather Station data, Generation, Carbon data and many more widgets. Unlike many other SCADA / monitoring tools in the market we do not expect you to build your own screens, but rather rely on us to share our expertise on the Dashboards which give you a simple view that enables decisions. We do this scientifically and draw upon our experience of over 10 GWp + of Asset Management and 845 + Solar PV Assets.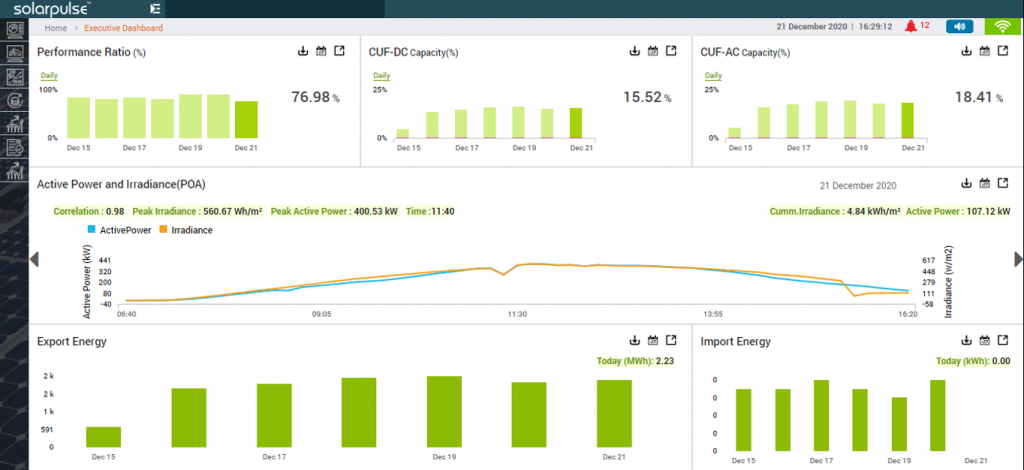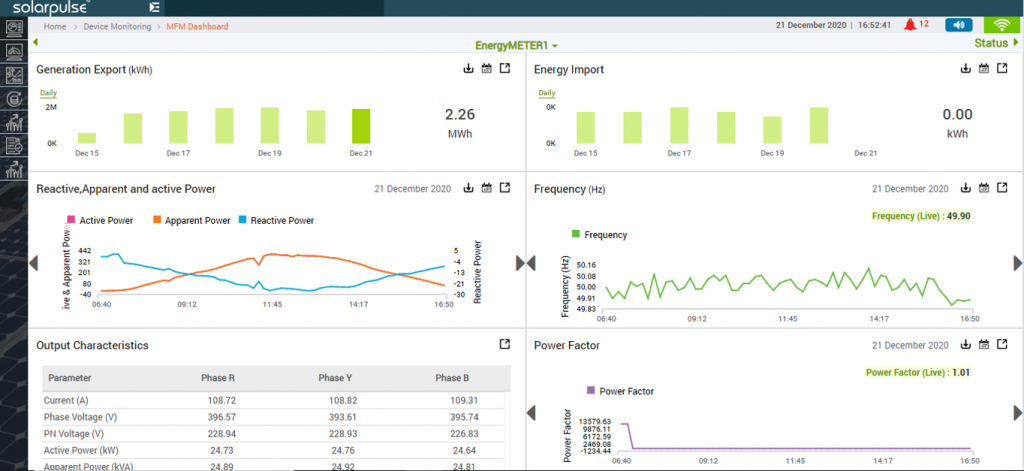 Device level pages – lets you deep dive for detailed info and equipment control and alarms raised, which can be viewed separately for each device (Inverter, CB, Transformer etc.) with analysis of real time data with PVSyst data.

Remote Deployment – IoT platform's remote deployments are becoming both ubiquitous and business critical. As the OTA updates become more synonymous, a secure and fail-safe updating system becomes crucial for a successful IoT deployment.
Customized to your Choice – Apart from choosing your Dashboard widgets, get your own Domain, Theme and option of more than 1 system language. We are Agile to change solutions to meet client needs.
Compatibility at its Core
Normal Scada systems are tightly coupled with their hardware. Devices not made by the same manufacturer (or specific manufacturer) cannot easily integrate. SolarPulse allows connecting to any hardware using protocols like MQTT, FTP, TCP, HTTP, OPC etc., which enables communication across devices regardless of manufacturer.
SolarPulse can Retrofit to any plant, any device, any Network, any Protocol. We are proud to call ourselves not just Hardware Agnostic, but also SolarPulse is compatible (easy to integrate) with all 3rd party tools and any Software.
Pricing that helps you improve IRRs (Internal Rate of Return)
SolarPulse team is bringing an honest pricing mechanism with a la carte options to choose from. We give the users freedom to choose:
As many number of widgets

Number of users & plants

Customize data collection

API calls & Notification frequency, and

Forum support to Dedicated KAM
About Mahindra Teqo
Mahindra Teqo is a tech-enabled Renewable Energy Asset Management offering from the flagship Mahindra Group – A USD 20.7 Billion Group spread across 100+ countries. Mahindra Teqo offers a complete suite of products & services for streamlined asset management to help the global renewable industry maximize returns from their RE assets. With its Pillars of Strength – Innovation, Agility, Efficiency and Excellence, Mahindra Teqo is the new age company driven with Hi-Tech & Hi-Value offering Customers a peace of mind. Armed with trained and diligent teams, and the Mahindra Group's strong corporate governance standards – we ensure complete satisfaction during their asset management journey.