TECHNICAL ASSESSMENT AND AUDITS
TEQMOBILE India's First Mobile PV testing lab offers complete solar PV Module testing onsite which can perform EL and flash test to check PV module healthiness at solar plant.
A dedicated team is assigned on-site and is equipped with specialised tools like IR camera, Power Analyzer, Thermographic hand-held camera and drone based which are used to validate the site under-performances and can help owners identify and validate underperformance issues.


Patent No. 201721017370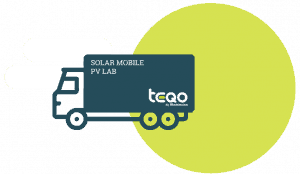 PV modules account for ~ 70% of the capex for a Solar PV plant, and underperformance of the modules can be the single largest reason why an asset owner's (lenders) financial model and actual cash flows may not match. Early detection can lead to immediate control of losses and also maximize plant energy generation in future. The role of the PV testing lab is critical across the life cycle of the Solar PV plant, right from construction to the end of life.